The Handmade Eco-Friendly Longpi Black Pottery is nicknamed as 'Royal Pottery' because these craft items were only owned and used by the honorable families of Manipur. The black pottery Decorative Products parades a deep link with nature and unique styles.
Artisans used to make only cooking utensils but now they have revolutionised new designs and products. They're all black in colour, modest, and almost minimalistic. Longpi ham cookware has gained admiration over national and even overseas for its unique characteristics and look.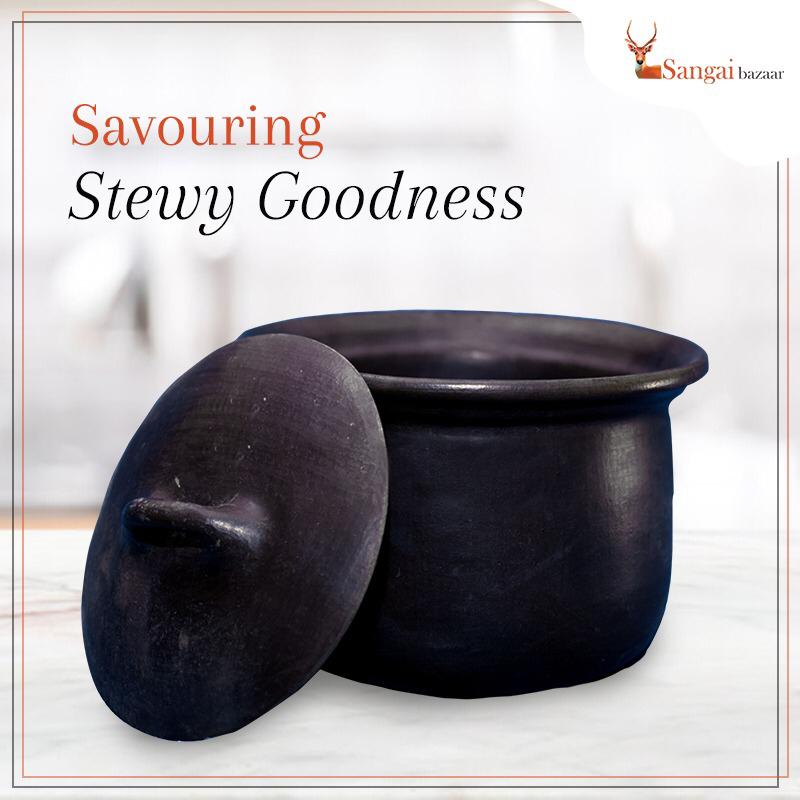 This North East pottery is known for its exclusive shapes and designs as well as its smoothness and metal-like appearance. Longpi pottery is used as kitchen utensils or ornamental items in the household. Residents either sell or make the pottery for their private use.
The majority of villagers are involved in making preparing handmade pots and household ware as it is a significant occupation for them after farming.Unluckily, traditional markets of these products are shrinking due to ignorance, replaced by other metalware products, lack of promotion.
There is a need for creating a niche market by encouraging its benefits and characteristics, motivate artisans to apprise themselves with new designs and decorations to protect this age-old craft.
For making Longpi pottery, handicrafts worker don't use any chemicals, machines or wheel-like other potters. Utensils are made from all-natural resources like black stone and hilly clay which makes food more enjoyable, hygiene and gives healthiness with earthen taste. Utensils are not only used for storage stuff but also for cooking at high temperatures.
An additional unique characteristic of this handmade pot is that it is used for cookery using, gas stoves, firewood and microwave as well. One can cook food for hours deprived of the fear of burning food. The serving set is escorted by a cane handles which is useful for an easy grip. Products are lightweight and sturdy.
According to our climatic condition, cotton material is the most comfortable material to choose for women's wear collection. They give you an exotic simple look but also will be stylish for your everyday occasion. You can fill your wardrobe with cotton dresses to heighten your look and glamour on any occasion.
The handwoven cotton dress goes for any occasion giving you a magnificent look. The appearance and grandeur that cotton churidars are able to create are actually superior and the hype for cotton dresses among Indian women still remains the same. The texture of the cotton materials is soothing and lightweight.
They are excellent options for both office wear as well as party wear and morning wedding rituals can be attended with gorgeous cotton fabric with beautiful design patterns.
Cotton fabrics in both saree and Chudidhar give you a divine comfort and their collision with color, design, and printing patterns in recent times has changed the trend of cotton dresses gives you comfort for any occasion also adding a sparkle of tradition.
They have skin-accommodating properties that embrace your body type and allows the skin to inhale effortlessly. Cotton sarees with luxurious print gives you grandeur and a rich look for a party Easy availability of cotton material makes it a good option for the work environment to parties, they can be worn for any kind of events.
Unlike other sarees, they are easy to maintain, highly affordable, and suit all the age groups.
After reading the qualities of cotton are you planning for shopping, then visit our Sangai Bazaar website immediately and choose your cotton saree or dress from the varieties we have with good quality and different styles.
We have a customer care service 24/7 for your help. Start filling your wardrobe with ethnic and beautiful from women wear collection online.