Pottery is one of the ancient crafts which the civilians of Manipur are mastered at. It is also an art form inherited over generations as their legacy. This black pottery is also known as 'longpi pottery' because these are made from weather rock and serpentitite which are found bountiful on the coasts of river longpi. These rocks are crushed and made as clay. Then it is moulded into desired shapes without using any pottery wheel. They are designed to give an aesthetic and classy look with value-added medicinal values.
Buy eco-friendly black pottery products as they could naturally enhance our body metabolism.
Using black pottery products for cooking can boost one's immune system as it consists of all essential vitamins.
They can sustain heat and regulate it uniformly while cooking and it can keep the moisture in the food prepared intact and subsides the pH levels.
The serpentite present makes the pot sturdy and durable. If seasoned technically, it uplifts the longevity of the product.
All the cookery items made in black pottery can be used in ovens, refrigerators, direct heat, etc.
Cooking in these could reduce the oil and fat content in the food prepared.
According to statistics, it is proven that consuming food made from black pottery brings down symptoms of morning sickness in pregnant women drastically.
As these crafts are only being practiced in rural villages, buying these commodities would reflect in employments and enriches their revenue rates.
These products are bio-degradable, environment friendly, and doesn't possess any harmful parameters or side effects.
Cookware is something most of us use every day but one of the toughest groupings to determine safety.
And the safest varieties have their fair share of suitability problems. In this detailed post, we shall assess the top types of cookware and rank them. The bad news… faultless options don't exist (yet).
The good news… there are a few options. This investigation has been a decade-long project and it involved testing many types of cookware that didn't work and a few that have over the years.
At this instant, let's get into the weeds! Delight yourself and your guests with this captivating Black Pottery Coffee Cup Set with Eco-friendly Kettle.
 Handmade with a combination of black Serpentinite stone, clay and weathered rock. Also known as black Pottery or Chemical-free cooking ware, they make tea of coffee taste better with their natural essence of the content and are esteemed for medicinal values.
It's widely acclaimed by the locals that consuming from these potteries stop morning sickness for pregnant women.
Teapots can be used for direct cooking over gas stoves or firewood, and are microwave-safe as well. Contents of the teapot and cups endure staying heated for a long time, safeguarding that the tea or coffee continues to remain hot.
This is since of the stone content in the content used. It's harmless, inert and non-reactive.
Be guaranteed, when used the right way, the substances will be evenly heated and retain most of its nutrients as associated with steel or metallic alloy teapots.
Black colour is naturally gotten during the manufacturing process, no paints or chemical are used for the same. Buy Eco-friendly Black Pottery Products for a rejuvenating experience.
The Handmade Eco-Friendly Longpi Black Pottery is nicknamed as 'Royal Pottery' because these craft items were only owned and used by the honorable families of Manipur. The black pottery Decorative Products parades a deep link with nature and unique styles.
Artisans used to make only cooking utensils but now they have revolutionised new designs and products. They're all black in colour, modest, and almost minimalistic. Longpi ham cookware has gained admiration over national and even overseas for its unique characteristics and look.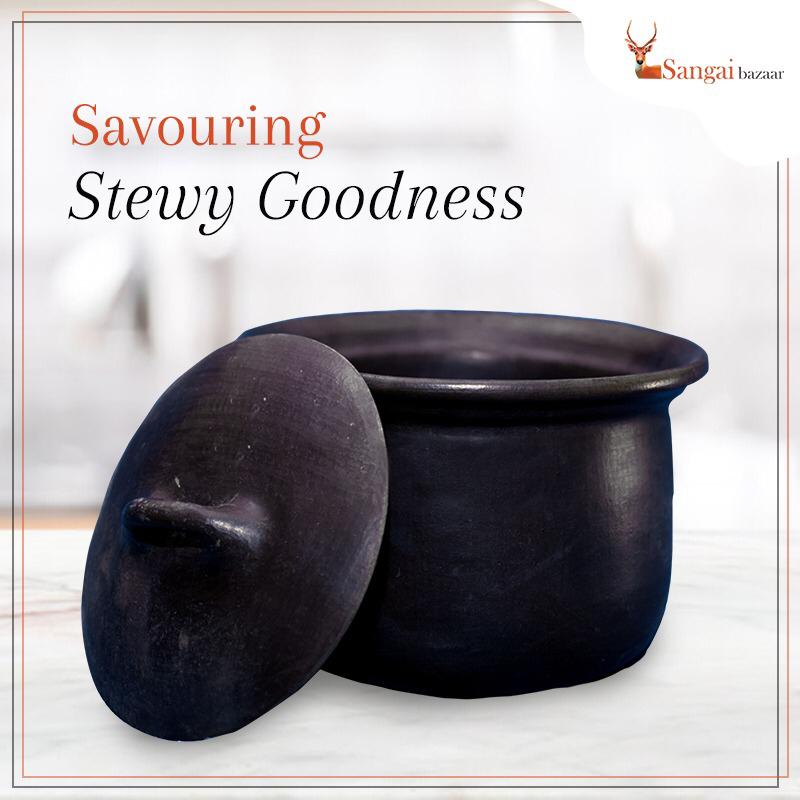 This North East pottery is known for its exclusive shapes and designs as well as its smoothness and metal-like appearance. Longpi pottery is used as kitchen utensils or ornamental items in the household. Residents either sell or make the pottery for their private use.
The majority of villagers are involved in making preparing handmade pots and household ware as it is a significant occupation for them after farming.Unluckily, traditional markets of these products are shrinking due to ignorance, replaced by other metalware products, lack of promotion.
There is a need for creating a niche market by encouraging its benefits and characteristics, motivate artisans to apprise themselves with new designs and decorations to protect this age-old craft.
For making Longpi pottery, handicrafts worker don't use any chemicals, machines or wheel-like other potters. Utensils are made from all-natural resources like black stone and hilly clay which makes food more enjoyable, hygiene and gives healthiness with earthen taste. Utensils are not only used for storage stuff but also for cooking at high temperatures.
An additional unique characteristic of this handmade pot is that it is used for cookery using, gas stoves, firewood and microwave as well. One can cook food for hours deprived of the fear of burning food. The serving set is escorted by a cane handles which is useful for an easy grip. Products are lightweight and sturdy.